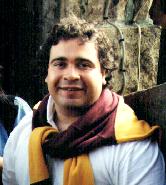 Martin A. Musicante Associate Professor (Professor Adjunto)
Contact:
s-mail:
Universidade Federal do Rio Grande do Norte
Centro de Ciências Exatas e da Terra
DIMAP - Departamento de Informática e Matemática Aplicada
Campus Universitário - Lagoa Nova
59072-970 Natal - RN - Brasil

Telephone: +55 84 3215 3814 (ext 230)

Fax: +55 84 3215 3813

e-mail: mam # dimap . ufrn . br (please substitute "#" by "@")
Education:
Doctorate degree in Computer Science, UFPE, Brazil, November 1996.
Master degree in Computer Science, UFPE, Brazil, October 1991.
B.Sc degree (Computer Science), ESLAI, Argentina, December 1988.
Research interests:
Formal semantics of programming languages (Action Semantics.)
Concurrent and Parallel languages (Languages for Web Service Composition)
XML and XML Query languages
Curriculum Vitae
CV Lattes (CNPq – In portuguese)
Teaching Duties: (in Portuguese)
Create your own visitor map!
Last edited on November 1, 2005 by mam